Relative hardness of Materials and Minerals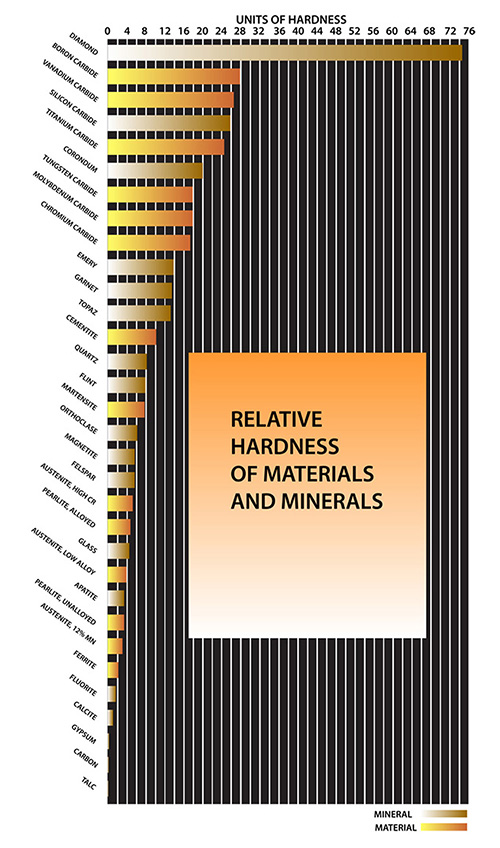 1.  Diamond

 2. Boron carbide

 3. Vanadium carbide

 4. Silicon carbide

 5. Titanium carbide

 6. Corundum

 7. Tungsten carbide

 8. Molybdenum carbide

 9. Chromium carbide

10. 

Emery

11. Garnet

12. Topaz

13. Cementite

14. Quartz

15. Flint

16. Martensite

17. Orthoclase

18. Magnetite

19. Felspar

20. Austenite, High CR

21. Pearlite, Alloyed

22. Glass

23. Austenite, Low alloy

24. Apatite

25. Pearlite, Unalloyed

26. Austenite, 12% Mn

27. Ferrite

28. Fluorite

29. Calcite

30. Gypsum

31. Carbon

32. Talc
 

Wodon are specialized in produce Chromium carbide overlay wear plate, we adopt submerged arc welding technoloy which contains more Cr content ranging from 25% to 45%. the carbide volume fraction on the microstructure is above 50% and maximum hardness of hard particle is HV1800. the ASTM-G65 methode A is under 0.16g.

 

 

Chromium Carbide bimetallic plate:

 

Medium/

L

ow carbon steel + 

A

brasion resistant layers → 

C

hromium carbide bimetallic plate with metallurgical bonding

 

(Q235/Q345B + Chromium Carbide overlay → 

C

hromium carbide bimetallic plate by Submerged arc or Open arc welding

technology)

 

 

Detail:

 

The wear resistant layer has a high amount of chromium carbide hard particles. These particles are distributed evenly throughout the layer, creating a strong microstructure. The hardness is HRC 5

8

~6

5

 and depends on the overlay's thickness.

 

The main ingredients of Wodon plate are C(%): 3.0~

6

.0 and Cr(%): 25~4

5

. This chemical proportion results in a large amount of Cr7C3 chrome carbide hard particles. The micro-hardness (up to HV1800) of these particles throughout the layer will guarantee a super wear resistant surface.

 

The overlay and base plate are metallurgical bonding. The overlay will penetrate into base plate about 0.8~1.8 mm, reaching up to 350 Mpa in our tests.

 

 

 

 

WD1200 wear plate can be used for severe abrasion applica

ti

ons.

 

*  Chromium carbide overlay wear resistant plate

*  By submerged arc welding technology

*  Chemical Composition: C: 3.0-6.0%  Cr: 25-45%

*  Chromium carbide Cr7C3 volume fraction about 50%

*  The thickness of wear resistant layer can reach up to 50 mm

*  Heat resistance up to 600°C

*  Lager standard wear resistant area 1400*3000mm, 1400*3500mm, 2100*3500mm

*  Better flatness with smooth surface

*  Hardness: HRC58-65 

(650-720HV)

 

These plates are widely used in Mining, Cement, Power, Coal, Port, Wind turbines and Metallurgical industry

.

 

 



---
Post time: Sep-27-2021